Our Committee & Structure
Executive Committee:
Mr. John Meaney, Chairman, Ballynolan
Mr. Jim Campbell, Vice-Chairman, Kilkenny Road
Ms. Mary Meaney, Secretary, Ballynolan
Ms. Mary Murphy, Asst, Secretary, Seskin Road
Ms. Kathleen Nevin, Treasurer, Ballinaboley
Ms. Maura Devine, P.R.O., Rathellen
Mr. Brendan Cunningham, Digital, Barrow Lough
Ms. Ann Foley, Youth Officer, Barrow Lough
Extended Committee:
Ms. Therese Nevin, Ballinaboley
Mr. Pat Taylor, Ballyknockan
Ms. Lil Drea, Barrow Lough
Mr. Peter Kelly, Barrow Lough
Ms. Mary Sheill, Barrow Lough
Mr. Martin Nevin, Carlow Road
Ms. Mary Sullivan, Ballyknockan Manor
Mr. Mick Kavanagh, Seskin Road
Ms. Bernie Price, St. Lazerian's Terrace
Mr. Ned Donoghue, New Road
Mr. Michael Doran, Main Street
Mr. Willie Costigan, Ballyknockan
Mr. Pakie Nolan, Rathellen
Fr. Tom Lawlor, Rathvinden Road
Our committee and our sub-committee volunteers hail from all areas of the village. The map below shows how all areas are represented.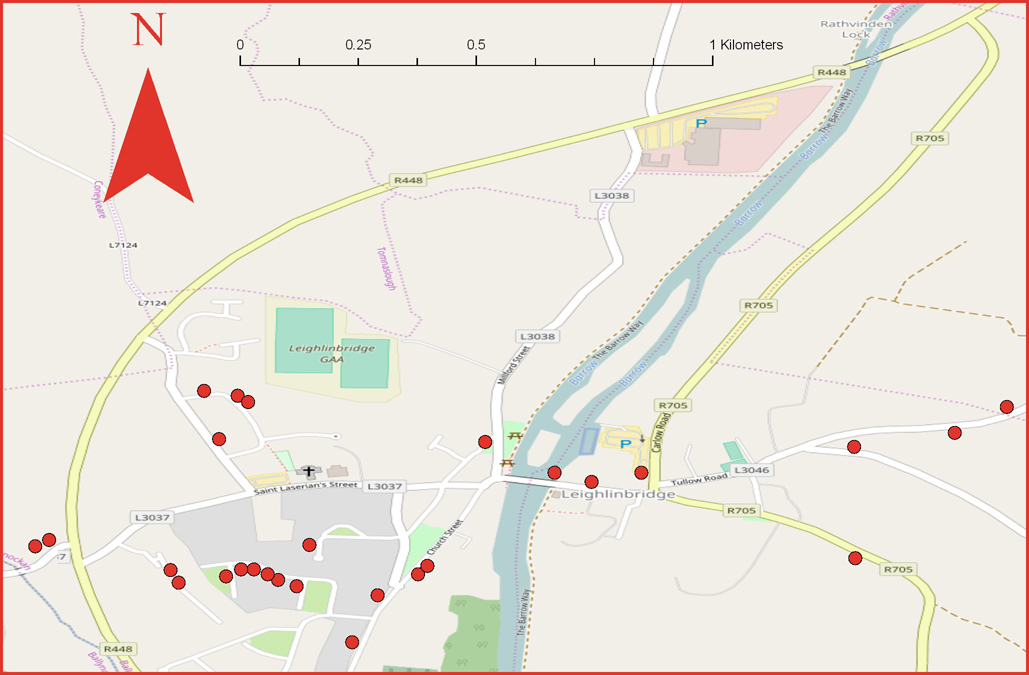 Sub- Committee for Wildlife & Natural Amenities:
Ms. Kathleen Nevin, Ballinaboley
Fr. Tom Lawlor, Rathvinden Road
Pupils, Leighlinbridge National School
Mr. Timmy Clarke, DSP
Ms. Kathryn Kavanagh, DSP
Sub- Committee for Tidiness:
Mr. Peter Kelly, Barrow Lough
Ms. Lil Drea, Barrow Lough
Mr. Jim Campbell, Kilkenny Road
Ms. Mary Meaney, Ballynolan
Sub- Committee for Biodiversity:
Ms. Ann Kelly, Seskin Road
Mr. Luke Kelly, Seskin Road
Fr. Tom Lawlor, Rathvinden Road
Mr. Jim Sullivan, Ballyknockan Manor
Sub- Committee for Sustainable Waste Resources:
Ms. Ann Foley, Barrow Lough
Ms. Michelle Lawless, Barrow Lough
Ms. Aíne Cody, Barrow Lough
Sub- Committee for Litter Control:
Ms. Kathleen Nevin, Ballinaboley
Mr. Peter Kelly, Barrow Lough
Ms. Anne Nevin, Seskin Road
Ms. Mary Brennan, Main Street
Mr. Martin Nevin, Carlow Road
Mr. Mick Kavanagh, Seskin Road